New Voices – Västerbotten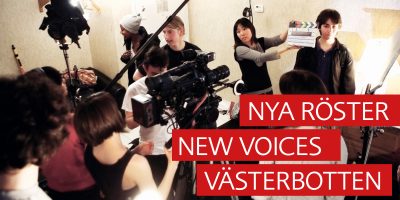 Non-established filmmakers living in Västerbotten can apply for money to make a short film.
Swedish film needs a mix of perspectives, life experiences and stories from throughout the country. That is why we are looking for new voices; filmmakers with perspectives that can enrich the Swedish film industry.
You can apply for SEK 5,000–100,000 for the production of a short film. The film must be a fiction film of at most 15 minutes. All genres are welcome.
By non-established filmmaker, we mean that you have not received support from the Swedish Film Institute or SVT.
Deadline 7 October 2021
The project New Voices – Västerbotten is funded by the Swedish Film Institute's initiative Talent to Watch, with a focus on including currently missing perspectives and stories in Swedish film.
Is this the first time you are applying for funding from Film i Västerbotten?
Here are some examples of different parts of the application, information about the application process and what Film i Västerbotten expects if you receive funding. You also find these texts in the links on the right hand side of this page.
The application must include:
The completed application form
The script
A synopsis
A project description
A timetable
A budget
A funding plan
A list of equipment (if you plan to borrow equipment). Read more HERE.)
The application becomes official once you have filled in our form. Email the rest of the application to lill@filmivasterbotten.com
The deadline is 7 October 2021, and you will be notified of the decision within 8 weeks.
Film i Västerbotten also funds films in other ways than New Voices. Read more about how you can apply for funding and borrow equipment from us for your film HERE. For more information, please contact:
Lill Casslind
Film Consultant, Production and Talent Development
070–688 39 78
lill@filmivasterbotten.com